Giáo trình PHP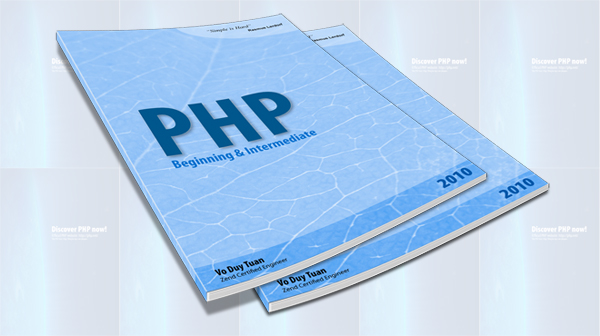 Với mục đích chia sẽ và giới thiệu PHP đến với các bạn-những người phát triển web, mình tạo trang này để chia sẽ tới các bạn một file ebook giới thiệu một số kiến thức về PHP nói riêng và phát triển web nói chung.
"PHP Beginning & Intermediate Study Guide" là một Ebook tiếng Anh, xuất phát từ giáo trình của mình soạn từ 2009. Ebook này chia làm 20 chương và bao quát hầu hết các khái niệm, kỹ thuật trong lập trình web và cụ thể bằng PHP. Trong ebook có thể bạn sẽ bắt gặp khá nhiều đoạn văn quen thuộc vì mình cũng có tổng hợp từ khá nhiều nguồn với những bài viết khá cô đọng và súc tích tương ứng với các chủ đề.
Phần trình bày này mình đã tối ưu cho phiên bản ebook (Syntax Highlighting cho Code) nên không biết khi in ra trắng đen sẽ thế nào. Tốt nhất là để nguyên hiện trạng PDF để đọc hoặc có thể in màu đọc cho dễ đọc.
Không một cuốn sách nào lúc đầu lại không có lỗi và mình tin rằng đâu đó trong ebook này có lỗi mà mình chưa nhận ra. Nếu các bạn tìm thấy lỗi gì thì giúp mình bằng cách comment cho mình nhé.
Hy vọng ebook này sẽ giúp ích cho các bạn trên con đường làm việc với PHP và phát triển web.
LINK DOWNLOAD: PHP Beginning & Intermediate Study Guide (47MB – Colorful PDF)
————–
Table of Contents
Chapter 1. Web Design Basic
Chapter 2. PHP Workspace
Chapter 3. PHP Basic
Chapter 4. Function
Chapter 5. Array
Chapter 6. String Manipulation
Chapter 7. HTTP Basic
Chapter 8. OOP – Object Oriented Programming
Chapter 9. File Handling
Chapter 10. MySQL
Chapter 11. Logging & Debugging
Chapter 12. Advanced OOP
Chapter 13. Advanced MySQL
Chapter 14. Software Engineering Basic
Chapter 15. XML & Web Service
Chapter 16. Security
Chapter 17. Advanced PHP Topics
Chapter 18. Design Pattern
Chapter 19. E-Commerce Website
Chapter 20. Zend PHP 5 Certification – ZCE (Zend Certified Engineer)
Further Reading
UseFul Websites
————–
LET'S SHARE TO GROW !